Black creativity and content is a glorious and continuously flowing well. Contrary to some social media complainers' beliefs that there just isn't enough TV shows, films, and other entertainment with Black people at its core, creatives are offering a variety of stories with something for everyone. (And, of course, there is plenty of room for MORE.) Some of them are mainstream wavemakers like Black Panther: Wakanda Forever, a level of representative storytelling that certainly matters considering its widespread reach.
However, these well-known properties and characters only scratch the surface of a plethora of offerings that tell Black stories. Independent filmmakers, novelists, and comic artists also play a vital role in showcasing and examining the full breadth and depth of Black experiences, whether they are rooted in reality or with a fantasy/fictional flair. And, when you support them, you are supporting a dream and opening the door for more rich stories about Black experiences.
While we cannot list every single piece of Black content coming out in 2022, we hope this list will be a great resource, a jumping off point for those who want to support Black creatives and enjoy a wide variety of Black stories.
Editor's Note: This list will be updated with changes, revisions, and additions as they materialize throughout 2022. 
New and Returning Black TV Show/Anthology Content in 2022
The Proud Family: Louder and Prouder
Platform: Disney +
Release Date: February 23, 2022 
In a world of many reboots, remakes, and reimaginings, this is one that '90s kids didn't ask for but truly want to see. The Proud Family: Louder and Prouder is bringing back Penny Proud and her hilarious family with the original cast reprising their leading roles. Penny is 14 years old, dating, and making her Dad Oscar want to lose his hair. All the fan favorites are back, including Suga Mama, along with new characters and a host of celeb guest stars like Lil Nas X and Lizzo. 
Criblore, a Horror Anthology Series
Platform: TBD
Release Date: 2022
From the creator who brought you #JujuWebSeries, a story of three best friends who discover they are witches, we present to you…

Criblore, A Horror Anthology Series 😈
More witches, more vampires, more wolves, more ghouls.

Stay tuned. 2022 pic.twitter.com/vEHfOXEBrf

— FWM Productions – Home of #JujuWebSeries (@filledwmagic) November 28, 2021
The creative minds behind Juju: The Webseries are serving up witches, vamps, ghouls, and more in an upcoming anthology series. The details are sparse at this moment but we do know that these stories, like everything Filled With Magic Productions does, will center on Black characters. According to filmmaker/writer/producer Moon Ferguson, one story is entitled "F*ckboy." Black independent content often delivers what fans desire in a genre, so sign us up. 
Bel-Air
Platform: Peacock
Release Date: February 13, 2022
Will Smith's trek from West Philadelphia (born and raised) to the ritzy streets of Bel-Air is a classic coming-of-age sitcom. Now Peacock's Bel-Air will take the spirit of that story and reimagine it through a dramatic, modern lens. Newcomer Jabari Banks takes on the role of Will and, if the trailer is any indication of what's to come, this might become appointment TV viewing. 
Atlanta 
Platform: FX
Return Date: March 24, 2022
Atlanta's third season is finally coming nearly four years after its renewal. The FX series, starring Donald Glover, Lakeith Stanfield, Brian Henry Tyree, and Zazie Beetz, will take fans to Europe on the crew's successful tour. The Georgia natives will have to adjust to the highs and uncomfortable lows of their newfound success. Prepare for more revelatory moments, weird conversations, and continuous growth from these characters. 
Moon Girl and Devil Dinosaur
Platform: Disney +
Release Date: Summer 2022
The smartest person in the Marvel universe will skate her way into fans' hearts this summer. Lunella Lafayette's (voiced by Diamond White) animated adventures are heading to Disney+ and will likely follow the twisty trajectory of her comic series. She's a brilliant girl who would rather do experiments than hang out with her friends. And when she discovers the truth about herself and connects with a big red dino, the universe and its secrets open up in ways she never imagined. 
The Wonder Years
Platform: ABC
Release Date: First season available to stream via ABC.com and Hulu
There are a fare share of shows that look at a certain era of America through a "nostalgic" lens. They tend to have white protagonists who reminisce on the "good ole days" of years gone by…you know, back when segregation reigned supreme. The Wonder Years follows Dean, a Black preteen growing up in 1960s Montgomery, Alabama. The balance between family dynamics, coming-of-age drama, and the realities of Black life during that era come together for a truly beautiful sitcom. 
Naomi 
Platform: The CW
Release Date: January 13, 2022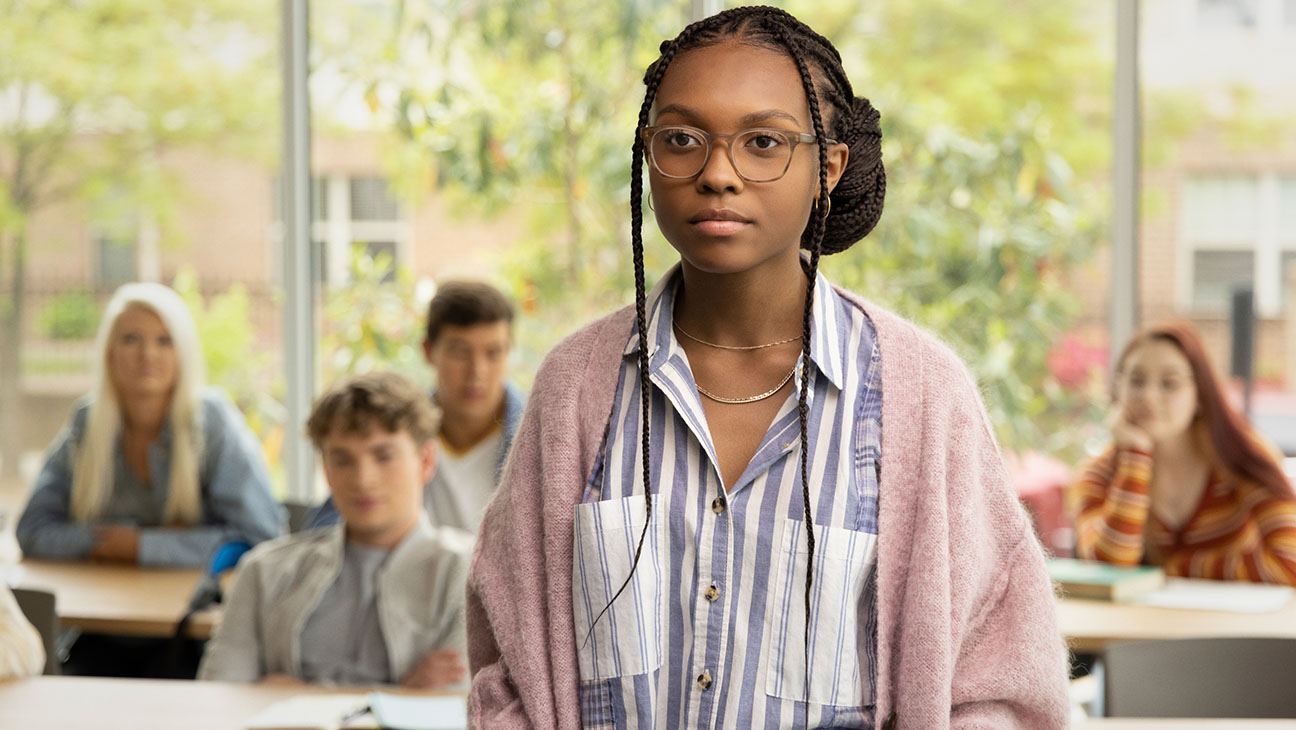 The CW's Naomi is kicking off this year's slate of Black girl led hero offerings. The titular hero (played by Kaci Walfall) is a nerdy skateboarder who discovers the truth about her origins and powers. Of course, this discovery comes with drama and enemies abound, so Naomi must learn to control her abilities so she can save others. 
Batwoman 
Platform: The CW
Return Date: Currently airing season three through March 2022
Javicia Leslie is fully immersed in this titular role as a crime fighting heroine after claiming it in season two. Ryan Wilder dives deep into Gotham's darkness, foiling her foes and making every fight scene look like an action packed masterpiece. It's not clear if there will be a fourth season yet but we certainly live for more Black Batwoman.
Raising Dion
Platform: Netflix
Return Date: February 1, 2022
This Netflix show's second season will deal with the aftermath of Dion and his mom Nicole's discovery of his incredible powers. A bevy of new dangers, events, and connections will continue to change Dion's young world as he comes up against yet another looming threat. Dion will attempt to suit up, get a new trainer, and more, as evidenced by the season two trailer. 
Archive 81
Platform: Netflix
Release Date: January 14, 2022
Found footage, occult mystery, and multiple timelines converge to create a psychological drama worthy of a weekend marathon watch. The Mamoudou Athie and Dina Shihabi led series follows a man who is commissioned to restore a series of video tapes from a fledgling filmmaker who gets caught up in a dark rabbit hole within a strange apartment complex. We love a psychological thriller with a Cozy Sweater King. After you finish streaming the series, check out our Archive 81 questions that need answers post for your speculative pleasure. 
Abbott Elementary
Platform: ABC
Release Date: Episodes airing through February 2022 (ABC.com/Hulu) 
Quinta Brunson's rise from social media funny lady to sitcom lead is one to behold. Abbott Elementary follows a group of Philadelphia teachers and a principal as they try to help the student body become successful. A combination of sharp wit and real-life class woes, this series is already capturing the hearts of millions. 
Craig of the Creek
Platform: Cartoon Network
Return Date: Episodes release to HBO Max on February 17, 2022
Cartoon Network's gem of a series is currently in its fourth season, continuing to follow Craig, a kid who plays with his friends at a nearby creek. It taps into the nostalgia of childhood adventures and serves up some lovely LGBT representation along the way. The show's fifth season is already greenlit for a 2023 release in addition to a Craig of the Creek film and preschool spinoff series Jessica's Big Little World.
A Black Lady Sketch Show
Platform: HBO/HBO Max
Return Date: 2022 
Sketch comedy is often very white and/or male driven. But this offering, as evidenced by its name, lets a crew of hilarious black ladies run the show. Starring Robin Thede, Quinta Brunson, Gabrielle Dennis, Skye Townsend, and more, the third season will storm to HBO some time this year.
Black Films Debuting in 2022 
Black Panther: Wakanda Forever
Release Date: November 11, 2022
The sequel to the wildly popular and pivotal Black Panther is finally arriving this year! The film is a bittersweet continuation of its predecessor, a story that will have some significant changes after Chadwick Boseman's death in 2020. Danai Gurira, Letitia Wright, Winston Duke, Lupita Nyong'o, and others are expected to reprise their previous roles along with newcomer Dominique Thorne, who will bring Riri "Ironheart" Williams to live-action for the first time. We think the highly anticipated return to Wakanda will tie into the end of No Way Home and can't wait to see if our theory is correct! 
Spider-Man: Across the Spider-Verse (Part One)
Release Date: October 7, 2022
Yet another big movie sequel for Black nerds, Across the Spider-Verse will bring back our precious bean Miles Morales. There will be yet another adventure with Gwen Stacy aka Spider Gwen and a host of Spider folks as they face a new foe. Miles continues to grow up in front of our very eyes but he's still got that awkward charm that makes us love him. The film is also bringing the lovely Issa Rae in as Spider-Woman.
Nope
Release Date: July 22, 2022
At the time of this post's original publication date (February 2022) there isn't much to write about Jordan Peele's next horror effort. We have an ominous poster with lots of potential clues as to what is happening. We know that Keke Palmer and Daniel Kaluuya will star alongside Steven Yeun. But that is it. No plot. No teaser. Not a single crumb of further information outside of its release date. And that makes us want to see it even more. 
Creed III
Release Date: November 23, 2022
The Creed franchise and legacy will continue this year. Michael B. Jordan put back on his boxing gloves as Adonis Creed and make his directorial debut. It is set to be the first Creed film (and film in the overall Rocky lineup) without Rocky Balboa in it. There aren't further details about the plot nor the next big foe (Clubber Lang's son, perhaps?), but we can presume that Tessa Thompson will reprise her role as Bianca and we will see more of their family life with their daughter. 
Black Adam 
Release Date: July 29, 2022
Why yes, Dwayne "The Rock" Johnson is indeed a Black person, in case you weren't sure. And he's bringing yet another superperson story to the big screen. He stars as the titular character, an antihero and the enemy of Shazam who has similar powers. The ever-so-talented Aldis Hodge will also appear as Hawkman, the leader of the Justice Society of America (JSA). 
Beast
Release Date: August 19, 2022
Idris Elba heads up this survival film about a father who ends up in a dangerous situation. He takes his two daughters to South Africa and they end up being hunted by a massive lion who kills everything in its path. It turns out the lion has a vendetta against humans and looks to even the score. Honestly, we are rooting for the lion here but good luck Idris.
Sub Eleven Seconds
Release Date: Sundance Festival 2022 (January 20, 2022) (wider availability TBD)
This documentary, executive produced by the late Virgil Abloh, will focus on Sha'Carri Richardson, the 100m sprinter who took the world by storm with a record-breaking performance during the 2020 Summer Olympics. Richardson will ruminate on her life: the losses, the challenges, and how time plays a critical role in it all. It is a great chance to see the young woman behind the headlines and interviews through a lens of introspection and grace.
Marte Um (Mars One)
Release Date: Sundance Festival 2022 (wider availability TBD)
This independent film by Afro-Latino director/screenwriter/producer Gabriel Martins focuses on a Black family in Brazil (Martins' native country). The Martins family is lower class and living a quiet life in a major city, parsing through challenges, love, unrealized dreams, and other themes typical of a family narrative. It not only includes queer love but also looks at the political shifts within the country and how they affect the everyday person.
Neptune Frost
Release Date: Sundance Festival 2022 (wider availability TBD)
Anisia Uzeyman and Saul Williams join forces for this Afrofuturist story set in Rwanda. It's a musical science fiction story following Neptune, an runaway who falls in love with a coltan  miner. Neptune Frost takes place in a village comprised of computer parts and touches on anti-colonialism and anti-capitalism themes.
Master
Platform: Prime Video
Release Date: March 18, 2022
There's truly nothing that Regina Hall cannot do. She was the funny heart of the Scary Movie franchise and an all-around media mogul in Girls Trip. Now, Hall takes on Ivy League racism and a darker witch story in Master, which made its debut at Sundance 2022. The debut feature from writer-director Mariama Diallo follows Hall's Gail, who makes faculty history at a college and a young girl (Zoe Renee) as she acclimates to her settings. It's dark, timely, haunting, and will perhaps rank high as one of this year's best films.
Pure 
Platform: HBO Max
Release Date: February 3, 2022
Writer/Director Natalie J. Harris' coming-of-age short film Pure follows a Celeste, a Black queer girl who discovers a new love on the heels of her cotillion ball. Celeste goes on a journey of discovering her true self and accessing personal power and freedom. This movie has made its festival rounds with over 40 appearances and it will land on HBO Max for everyone to enjoy.
The Woman King 
Release Date: September 16, 2022
Gina Prince-Bythewood is the writer and director of this film based on real events that took place in The Kingdom of Dahomey (now southern Benin), a powerful state in the 18th and 19th centuries. The film boasts a packed cast, including Viola Davis (!!!) as the leader of an all-woman army, John Boyega, and Lashana Lynch, among others.
New Black Novels in 2022
Ashes of Gold
Author: J. Elle
Release Date: Out Now 
2022 is a year of brilliant sequels and January began with the second part of J. Elle's wonderful Wings of Ebony duology. Following Rue, a young Black girl who discovers she's descended from Gods, this second book takes us far deeper into the world and lore of her Ghizoni heritage. Immersive, magical, and moving, Elle has created something truly special with Rue's story. 
Akata Woman
Author: Nnedi Okorafor
Release Date: Out Now
Another sequel fans have been desperate for is Okorafor's latest foray. The third entry into The Nsibidi Scripts series, this book is steeped in African magic and Nigerian folk beliefs for a truly unique fantasy story. Readers will rejoin Sunny Nwazue as she heads out on a dangerous quest that could change the fate of the world. 
Goliath
Author: Tochi Onyebuchi
Release Date: Out Now
Onyebuchi became one of our favorite writers with his incredible debut Riot Baby. His follow up is the kind of ambitious, groundbreaking sci-fi that will be seen as a watershed moment for the genre. Reimagining gentrification through a space colonization lens, the world as we know it has become uninhabitable for the richest, and those who remain must fight for their lives and loves. 
Black Girls Must Be Magic 
Author: Jayne Allen 
Release Date: February 1, 2022 
Following on from Black Girls Must Die Exhausted, Allen continues the story of Tabitha Walker. The 33-year-old whose life was turned upside down by an unexpected diagnosis in the first book is back on her quest for happiness, love, and satisfaction. A charming slice of life centered on a Black woman and her search for the life she deserves, this is a much needed novel and series. 
Bitter
Author: Akwaeke Emezi
Release Date: February 5, 2022
The first of two entries on our list by Emezi, Bitter returns us to the world of the author's stunning novel Pet. In this book, we learn more about the world of Lucille and begin to see the seeds of revolution sowed as the younger generations begin to fight against the oppressive culture they live in. Transgressive, experimental, and radical, Bitter and Pet must be read to be believed. 
Surviving the White Gaze
Author: Rebecca Carroll
Release Date: February 8
This powerful memoir from Carroll is a timely examination of race in America, as well as a stirring tale of resilience. From her childhood as the only Black person in her rural New Hampshire town with her adoptive parents to the impact of reconnecting with her white birth mother and her adulthood search for racial identity, Carroll's story will certainly be a vital, necessary memoir. 
Okoye to the People
Authors: Ibi Zoboi & Noa Denmon
Release Date: March 1, 2022
Black Panther fans rejoice, we're getting a ton of great Black Panther books and comics this year. The first is this stunning novel about Okoye, the brave Dora Milaje who has become many fan's favorite MCU character. Here she heads to America and becomes torn between her duty to Wakanda and her need to help the young New Yorker she meets fight gentrification. 
Blood Scion
Author: Deborah Falaye
Release Date: March 8
Raised under the brutal rule of the Lucis, 15-year-old Sloane holds a deadly secret. She's a Scion, a descendant of the Orisha gods, with the power to incinerate an enemy at will. When she's conscripted into the Lucis army, she fears her truth will be uncovered, which would mean certain death. But soon she realizes she can take the Lucis regime down… from the inside. 
Amari and the Great Game
Author: BB Alston
Release Date: August 30, 2022 
Returning to the magical world of Amari and the Night Brothers, this highly-anticipated sequel can't come soon enough. Amari has saved the world before, so her first summer as a Junior Agent should be easy. But soon she's up against anti-magic headteachers, supernatural forces, and she even has to compete in the Great Game to decide the fate of magiciankind! 
By the Book
Author: Jasmine Guillory
Release Date: May 3, 2022
The queen of romance takes on Beauty and the Beast in this contemporary reimagining of the iconic fairytale. Isabelle is tired of being a publishing assistant, stifled and stuck. So when she hears about a beastly author who needs to be wrangled, she heads to his Santa Barbara mansion. Soon the pair are connecting and feeling something there that wasn't there before. 
You Made a Fool of Death With Your Beauty
Author: Akwaeke Emezi
Release Date: May 24, 2022
One romance is not enough for this list and we cannot wait for Emezi's first foray into the genre. It's been five years since the accident that killed the love of Feyi Adekola's life. She's rebuilt her life and she loves it, but then a steamy encounter on a rooftop sends her summer into a whirlwind of romance, adventure, and self-discovery. 
Nightcrawling: A Novel
Author: Leila Mottley
Release Date: Jun 7
This debut novel from 2018 Oakland Youth Poet Laureate Leila Mottley is one of our most anticipated books of the year. Kiera is a young Black woman trying to survive in Oakland. Struggling to keep her brother and their young neighbor alive and safe, she finds herself swept into the bleak world of Nightcrawling. Vital and brilliant, this will be the book to pick up in 2022. 
Protectors of Wakanda: A History and Training Manual for the Dora Milaje
Author: Karama Horne
Release Date: Sept 13, 2022
Ever wanted to know how to become a Dora Milaje? In this new book from The Blerd Girl founder Karama Horne, you'll be able to do just that. The book will combine an in-universe history of Wakanda's brilliant warrior women as well as working as a handbook for those who want to join. We've always wanted to know more about the elite female protectors of Wakanda so we can't wait.  
Black Comics Coming in 2022
Laneha House Comics 
Authors: Breena Nuñez, Lawrence Lindell, and others
Release Date: Monthly through 2022
One of the most exciting and awesome self-publishers out there, Laneha House publishes work by Lawrence Lindell, Breena Nuñez, and The BAYlies Magazine Comics. This is indie comics creation at its finest as the pair deliver relatable and radical auto biographical comics. Laneha House recently switched to a self-run subscription, so you can join to support and enjoy their comics!
What if…? Miles Morales
Author/Creatives: Cody Ziglar, Paco Medina (penciler) 
Release Date: March 2, 2022
Cody Ziglar has been playing a huge role in reshaping the Spider-Man universe of late, and he's taking on another fan fave spider-character in March. What If…? Miles Morales will imagine a world where Miles didn't get bitten by a radioactive spider but instead became some of the Marvel Universe's other most famous heroes. It begins with Miles as Captain America. 
Shuri and T'Challa: Into the Heartlands
Author: Roseanne A Brown
Illustrators: Dika Araújo, Natacha Bustos, Claudia Aguirre
Release Date: April 5, 2022
This original Black Panther graphic novel sounds like a total delight. Not only does it have an unreal creative team but it also follows our two favorite Wakandan siblings. 12-year-old Shuri just wants to help the home she loves so much, but everyone's more interested in her brother. When a sickness starts to infect Wakanda, the pair must go on an adventure together. 
Heart Takes the Stage
Author: Christina "Steenz" Stewart
Release Date: May 3, 2022
Collecting Stewart's lovely syndicated strip Heart of the City, this graphic novel will hopefully bring the delightful daily comic to an even wider audience. In case you haven't been keeping up, Heart of the City follows the titular Heart Lamarr, a young girl in Philly, as she goes to school and pursues her dreams of a life on stage. Cute, inclusive, fresh, and fun, we love this comic!
Wash Day Diaries 
Author and Artist: Jamila Rowser, Robyn Smith
Release Date: June 14, 2022
Expanding on their wonderful award-winning comic Wash Day, Rowser and Smith return with this gorgeous graphic novel. Wash Day Diaries follows a group of Black girlfriends through an interconnected series of stories that look at Black joy and sisterhood through the lens of hair. Beautiful, joyous, moving, and exciting, this is the kind of comic that you just can't miss. 
Additional reporting by Rosie Knight.




#Black #Shows #Films #Comics #Novels #Support