WEED, Calif. – Caught on camera, bodycam footage from a Lake Shastina police sergeant shows a heroic rescue during the deadly Mill Fire which raced through the communities of Weed and Lake Shastina earlier this month. 
The Mill Fire broke out on Friday, September 2, 2022 in Siskiyou County. Flames spread into the communities so quickly that as officials were working to get evacuation orders out, law enforcement officers were already going door to door to evacuate people from their homes. 
Intense moments were caught on body camera from Lake Shastina Police Sergeant Michael Yates as he and a Siskiyou County Sheriff's lieutenant were evacuating residents in Weed, CA. 
"The house is on fire, hurry up! That's fine, let's get him out! It's spreading."
The fire had already fully engulfed the neighbor's home next door. Flames were encroaching from the outside as you hear Sgt. Yates urges the family inside that it is time to go. 
You then hear Yates speaking to a man named 'Jonathan' whose medical condition was preventing him from being able to flee on his own. Leaving him behind was not an option. 
"Jonathan! Jonathan, come on bud. Jonathan, Jonathan!" Yates yelled. "Listen to me, you have 30 seconds to get out. You have 30 seconds to get out."
You can hear the man respond, deciding to crawl towards the front door.
"Let me just crawl!"
"Okay, crawl, crawl, crawl!," Yates responds. 
You then hear glass breaking as both sergeants and some family members work to get him to safety. At the same time, you hear a beeping ringtone from the sergeant's bodycam which signifies more and more 911 calls for service that are flooding the dispatch line. 
Sheriff's Lieutenant Cory Persing steps out of the burning home with Yates to flag down a man driving a trailer. The man stops to help and they back the trailer up to the front porch.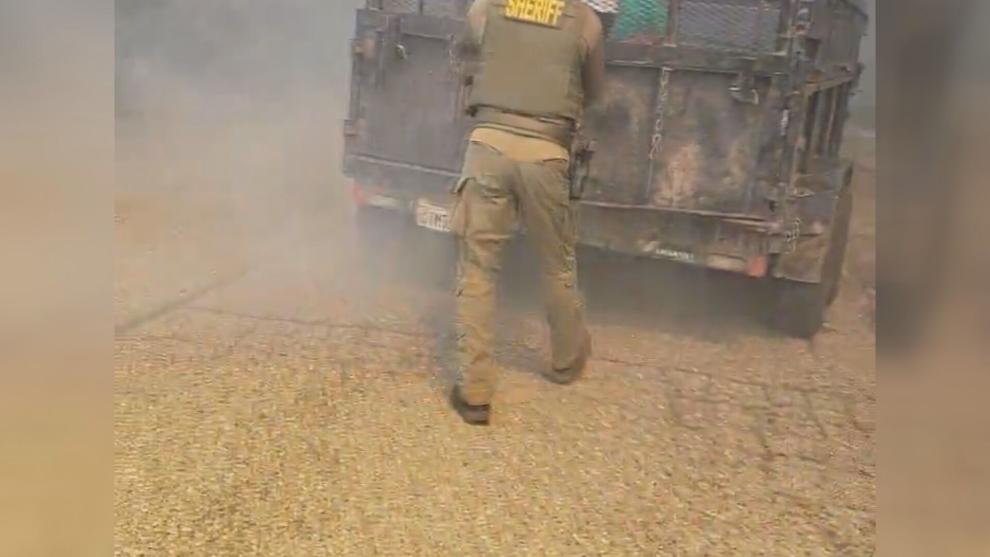 "Get him on this side. Get him on the side! It Has to be the side. It Has to be the side. Go, go, go," the sense of urgency in Yate's voice is heard as flames are beginning to come at them from all directions. 
The two law enforcement officers are able to load 'Jonathan' into the trailer seconds before the fire makes its way to the attic. The two catch their breath for a split second but a forceful wind gust, pushing the flames closer, quickly signals they need to leave as well. 
"We're about ready to get trapped," Lt. Persing yelled. 
"Yeah, we are! Let's, let's go."
At the same time, law enforcement is working to get people out, another person tries to get in, blowing through their roadblock on Highway 97. 
"Stop!! Stop the car!"
"They're going in." 
**𝗕𝗥𝗘𝗔𝗞𝗜𝗡𝗚 @CASheriffLaRue takes a moment of silence at the #MillFire Community Meeting Sunday, announcing the death of two people who lost their lives in the fire. "It's one thing to come up here and tell you things but to look at your faces almost brings me to tears.." pic.twitter.com/FKUZfUCXv1

— Courtney Kreider (@KreiderCourtney) September 4, 2022
The fire burned more than 100 homes in the area at just under 4,000 acres. Lifesaving efforts continued that day into the overnight hours with mutual aid of several nearby law enforcement agencies.  




#EXCLUSIVE #Mill #Fire #rescue #caught #body #camera #News