Robyn Dixon is a hot topic right now.
"Real Housewives of Potomac" star Robyn Dixon has been a fixture in the headlines for the last few days. It all started after it was revealed that Robyn and Juan Dixon tied the knot recently. And Robyn confirmed this when the RHOP cast came together to film the reunion for the current season. Interestingly enough, messy accusations were made just hours after the wedding news broke. A woman came forward and alleged that she messed around with Juan up until January of last year. This comes after Robyn laughed off accusations made by Karen Huger. On the show, Karen accused Robyn and Juan's wedding of being fake. She also alleged that Juan has a girlfriend on the side whom Robyn knows about. She denied the accusations and even said it was the first time she heard Juan had a blonde girlfriend.
Well, Robyn addressed the woman's claims on her podcast with Gizelle Bryant. The "Reasonably Shady" cohosts had a lot to say, too. And Robyn said that she had originally planned to open up about the situation on RHOP.
"First of all, I was aware of the situation before we filmed Season 7. And because this young lady was so pressed to tell me and to tell you Gizelle, I assumed she told the whole cast," Robyn said.
Gizelle interjected, "Right because she DM'd me."
Juan Dixon was in communication with the woman who made the latest accusations.
Robyn continued, "Right. So all of Season 7, I'm just waiting for somebody to bring it up…I'm just ready for it. I'm waiting on it. And so, we were in Mexico, Ashley (Darby) told me that Karen was talking about us. And I'm like okay, this is it. She talks about some blonde, holding hands, him holding hands with a blonde in Georgetown that looks like Karen. I'm like okay this is ridiculous. So that was kind of comical to me. So then we go down that road. But however, I was already aware of the situation. And I expected to talk about it on Season 7."
She also said the situation was already handled by the time she found out.
"Now the situation when it was presented to me was handled, was discussed. It was handled, it was something we had to work through. It was not something that was just like, oh okay. Whatever. However, there are a lot of things that need to be cleared up with what's being said with what allegedly happened which did not."
Robyn added, "I wanna almost maybe share the details for Patreon."
That hotel invoice is discussed.
She also said that the hotel invoice isn't what it seems, "So I will give more details on Patreon. But what I will say is yes, Juan was an idiot and communicated with this woman on Instagram because he's bored, he needs attention, it's a pandemic, blah blah blah, whatever. However, they did not date. He did not fly her anywhere. And there is a reason why his name is on a hotel receipt which I will share on Patreon. And the reason is not because he asked her to come and was volunteered to pay for this hotel room."
You can listen to the podcast episode here.
Chris Bassett and Candiace Dillard Bassett had something to say on Twitter.
RHOP fans aren't the only ones who had a lot to say about this revelation on social media. Robyn's coworkers chimed in as well. And it's safe to say that Candiace Dillard Bassett and Chris Bassett think it's unfair that Robyn was able to not share her personal life while Chris was targeted with what they say were malicious claims.
Chris tweeted, "So wait…..there were TRUTHS that were omitted/not filmed during our season. As a cast, we chose to tell FALSEHOODS & LIES about innocent people all season long & now we are charging for the truth?🤔🤔 WTF. I'm good on this ******** #rhop"
He continued, "Just so we are clear…Gizelle and Ashley KNEW about this BEFORE the season……didn't bring it up…That's your friend cool….But chose to LIE as a distraction????? I'm not mad at Robyn…But the others are trash for that."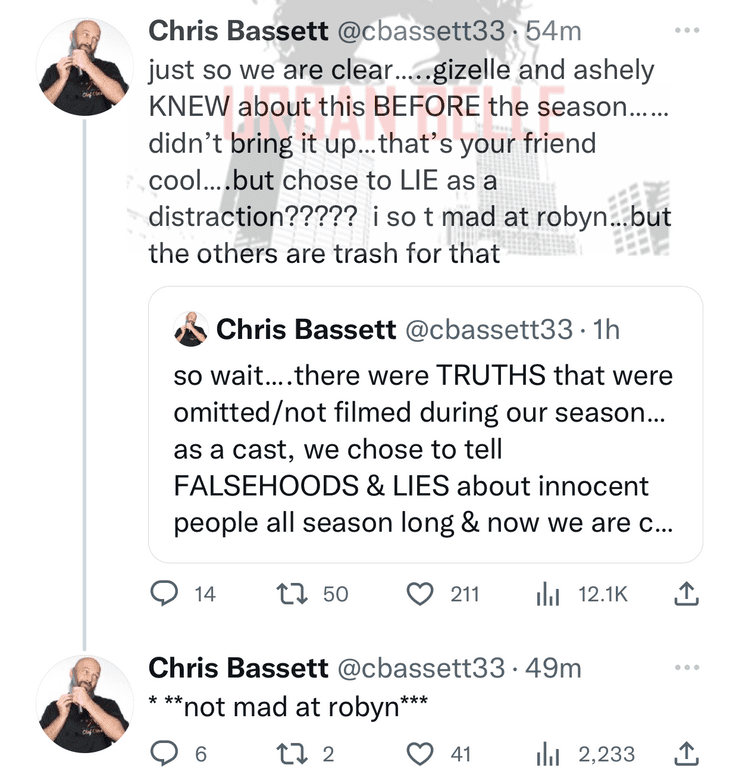 Candiace tweeted, "Wow: A Thread: Our boss's favorite clap back when we're playing coy about certain aspects of our lives is: 'You're on a reality show about your life.' There is an expectation that – doing no harm – we show up to this platform as our authentic selves."
She added, "And while we 'reserve the right to be judicious about what we share,' there is a special brand of audacity attached to individuals who will knowingly bury the lede in exchange for damning and salacious lies that stand to cause irreparable harm to innocent people."
As for Karen and Wendy Osefo, they tweeted a little shade.



#Robyn #Dixon #Controversial #Revelation #Juan #Dixon #RHOP #Fans #Cast #React